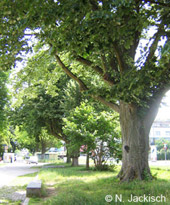 Biocides are classified according to the European Biocides Ordinance No. 528/2012 and differ from plant protection products by definition only by the "intention of use". While pesticides are used in agriculture to control unwanted pests in order to improve yields, biocides are used to protect materials. Biocides and plant protection products are grouped under the term pesticides and can be the same chemical substances
Biocides are used to protect building materials both indoors and outdoors or "protect" people, such as in mosquito repellents or disinfectants.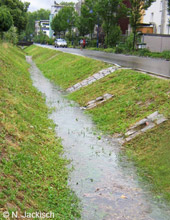 Biocides must come into direct contact with potential pest organisms in order to develop their effects. In order to ensure permanent protection, biocides must be permanently available on the surface of house facades. Technically, they are permanently removed from the protective coating in which they were bound. This allows them to be washed away and released into the environment.
Based on measurements, scientific studies show that biocides find their way into sewage treatment plants by being washed out. According to the German Federal Environmental Agency (Umweltbundesamt), biocide residues were even found in earthworms on fields fertilized with biocide-contaminated sewage sludge. Biocide residues were also found in fish living in waters to which sewage treatment plants drain. According to the German Federal Environmental Agency (Umweltbundesamt), there were approximately 43,000 biocide products on the market at the beginning of 2017.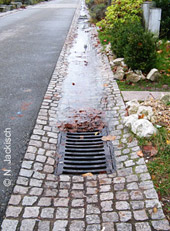 With so many biocides on the market, there are also many ways for them to reach ground- and surface water. Some exemplary paths are listed below:
First of all, all biocides that do not adhere directly to the materials can enter the environment. Possibilities are evaporation or washing off by precipitation water.
Washed-out biocides can enter soil, surface water or groundwater. In cities, they are discharged into the sewage system.
Inputs into the sewer system are fed into the sewage treatment plant in the case of mixed water sewer systems. In the case of separate sewer systems, rainwater (also with possible biocide contamination) is fed directly into the receiving waters. According to the German Federal Environmental Agency (Umweltbundesamt), this applies to about 40% of the sewer systems in Germany.
In combined sewer systems, all biocides that are not retained by biological/chemical degradation processes or by sorption (especially in sediments or sewage sludge) are discharged into the receiving waters in the effluent from the wastewater treatment plant.
Today, decentralised rainwater infiltration is increasingly being considered as a solution for rainwater infiltration. However, biocides can also be infiltrated with rainwater. Fast ways into the aquifers are problematic above all.
If sewage sludge is used as fertilizer, repeated leaching and erosion processes are conceivable as entry routes into the environment.
Since the systems soil, ground- and surface water are in a constant exchange with each other, biocides in the components of the water cycle are also being measured with an increasing tendency. Although concentrations are usually low, biocides can reinforce each other in their effectiveness. Likewise, transformation products, i.e. the products of incomplete degradation of biocides, often remain little studied. However, for individual transformation products higher toxicities than for the parent substances have already been observed.